September 29th MEETING WILL BE A LIVE ONLINE WEBINAR.
An Introduction to the Basics of Grounding, Isolation vs. Balance Power Transformers

Clean, reliable and continuous AC power is a valuable asset! Terry Brent and Joe Salvatto take an informative look at secure AC power.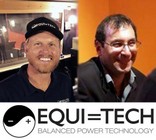 On Tuesday September 29th at 7pm PDT, Terry Brent (L) head of sales and marketing for EQUI=TECH Balanced Power Technology along with product specialist and chief engineer Joe Salvatto (R) will present an introduction to the basics of grounding, isolation vs. balance power transformers, power conditioning and the importance of a good, solid noise floor test. The features and specifications of a proper Uninterruptible Power Supply (UPS) will also be discussed.
FUTURE LOS ANGELES SECTION
MONTHLY MEETINGS:
Sep 29 An Introduction to the Basics of Grounding, Isolation vs

Balanced Power Transformers
Oct 27 Manley Laboratories Tour
Nov 24 Pantheon Media will present "HD Podcasting: Evolving Podcast Audio Quality via
Adaptive Streaming"
For more details on an AES Conference or Convention please click on the event.
PLEASE NOTE: NEW DAY AND LOCATION
DATE:
Tuesday, September 29th, meeting
Live online Webinar
TIME:
7:00 PM PDT Meeting.
COST:
Meetings are always free to all attending.